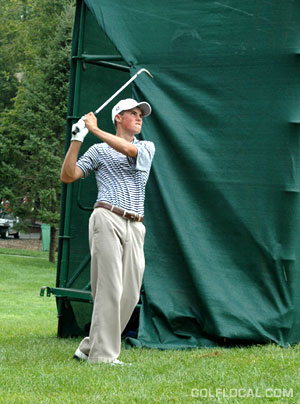 After almost a 3 1/2 hour rain delay Gavin Hall finally got the chance to display his game to the large crowds at The Turning Stone Resort Championship in Verona N.Y.  Looking relaxed and confident on the 1st Tee, Gavin Hall along with playing partners Tim Wilkinson and Cameron Tringale began their 1st round at Atunyote Golf Club.
Gavin, an upcoming sophomore at Pittsford Mendon High School, calmly approached the 1st tee and hit his drive straight down the middle of the fairway as the crowd roared.  As if he had been here before, Gavin was cool, calm and collected taking it all in stride.  However, he opened up his round by taking a double bogey on the 1st hole after a wayward approach shot and failed chip.
Not to be defeated, Gavin quickly got on track by parring the 2nd, 3rd and 4th holes. The 5th hole, a 520 yard par 5 was no match for Hall. After his tee shot found the rough just in front of the large bunker, Hall hit a 3 wood just right of the flagstick approximately 20 feet from the hole.  Using his putter off the fringe, he ran his 3rd shot within 2 feet of the hole nearly making an eagle.  With a tap in birdie, Gavin was now at 1 over and looking confident.
Making par on the 6th hole, Hall's tee shot found the trees on the left side of the 7th fairway.  With his ball resting in the wet mulch, Gavin hit a spectacular shot onto the left side of the green.  With a long putt left for birdie, Hall ran it up within a few feet and tapped in with another par.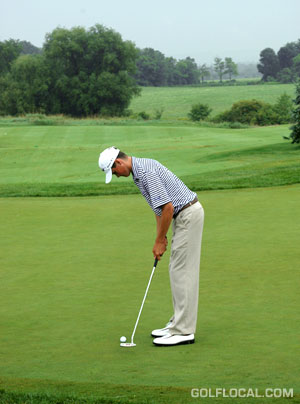 It is hard to believe how incredibly talented Gavin Hall really is. On the 8th hole, Hall hit his tee shot approximately 327 yards straight down the fairway, nearly 50 yards further then his playing partners.  With length like that it is no wonder why he beat the field by 18 strokes at the Rochester District Amateur Championship at Oak Hill Country Club back in July.
Hall's approach shot on 8th drifted left, bounced off the cart path,  and came to rest on top of a drainage grate. After getting relief, he calmly chipped up and 2-putted for his 6th par on the front 9. With a bounce in his step and the front nine almost complete he once again hit a smashing tee shot on the 9th hole just right of the fairway.  His approached shot flew over the flagstick leaving him with a 25 foot winding downhill putt for birdie. Leaving the first putt short, Hall ended his front 9 with a 3 putt double bogey going 2 over on the front nine.
Starting off par, par on the back, Hall then proceeded by going bogey, triple and then another bogey taking him to 7 over par after 14. Rattled but not completely defeated, Gavin put up pars on the next 3 holes and finished his day with a nice birdie on the 18th.  With an opening round of 78, 6 over par, Hall finds himself 13 shots behind the leader Omar Uresti.
Gavin Hall and all of Rochester should be very proud of what he did in his 1st round of The Turning Stone Resort Championship.  Remember he is a 15 year old playing with men 2 and 3 times his age.  Gavin, keep your head up and good luck with your 2nd round. It is certain we will be seeing a lot of you in the near future.
Please specify a Flickr ID for this gallery