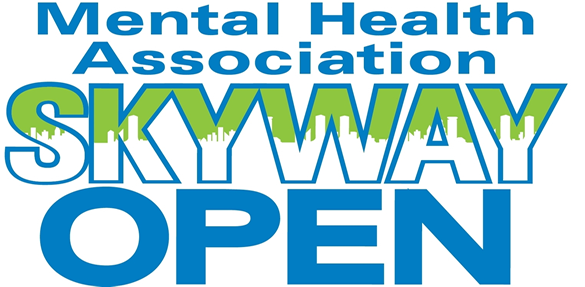 Are you busy on Saturday, February 11th?  Just a reminder to SAVE THE DATE for the Mental Health Association's Skyway Open—returning to Eastview Mall.  Imagine playing 18 holes of miniature golf throughout the mall–ending at the 19th hole and a high end silent auction.  It's a silent auction packed with trips, hotel packages, wine tours, dinners out at fine restaurants, beautiful artwork, evenings at GEVA, the RPO, Garth Fagan Dance & Downstairs Cabaret, weekend packages on both Canandaigua Lake and Keuka Lake, and many more items.  There will be a raffle for high tech items such as an iPod and X Box 360!  And there's a putting contest with prizes for both individuals and teams!
Come join the fun and help raise some money for the Mental Health Association –helping to ensure that clients find and maintain mental wellness.  MHA has already sold most of the 18 holes to corporate sponsors including key sponsors Excellus, Dixon Schwabl, Inc., St. Vincent's Press, Eastview and Vision Automotive Group, and hole sponsors including Bailey, Carr CPA's, PC., Toshiba Business Solutions NY, Manning & Napier Advisors Inc., Rortork Controls, Inc., Rochester Lead Works, Inc., R. W. Dake & Company, Inc., Northwestern Mutual Financial Network, Sentry Group, Best Times Financial Planning, Monroe Plan for Medical Care, Federated Clover Investment Advisors and many more. The participation by local companies and firms is exciting as they decorate their holes with many interesting themes!  It's great fun for individuals, families, friends, couples and –everyone!   Each golfer will receive a special bag of gifts including gift cards from mall merchants, coupons and other prizes!
Over 500 golfers are expected to play a round—individuals, families, golfing buddies, business associates, and many foursomes have already registered for tee times!  Golf begins at 9:30 a.m. and will end at 5p.m.—or when the last golfer is in!
Companies and firms are often quite creative as they decorate their holes.  Some past themes have included the Mars Rover, a ski lift & jump, the Space Shuttle, and a Kids Carnival!  Creativity and friendly competition abound as everyone gets into the fun, the excitement and the energy of the event.
Many volunteers from around the area will help with the event. Over 150 individuals will help to make the Skyway Open "happen"!  If you are interested in volunteering call 325-3145, ext. 111.
So come on out to Eastview on February 11 and join the fun! You can pick a tee off time in advance and MHA can supply you with a registration form!
For more information contact:
Mary Lewis Consler, Director of Agency Advancement
mconsler@mharochester.org
(585) 325-3145, ext. 152
website: www.mharochester.org
Please specify a Flickr ID for this gallery
2012 Skyway Open

,
Reviews