CALLAWAY DIABLO OCTANE DRIVER
8 Yards Longer Than Titanium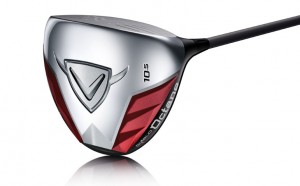 Lighter, faster, stronger. It's what makes the all-new Diablo Octane Driver a revolution. Fueled by Forged Composite, a unique new material from Callaway that allows superior distribution of clubhead mass, compared with all-titanium drivers. The result? A lighter clubhead that retains an extremely high MOI. The Diablo Octane Driver powers drives beyond those of its all-titanium predecessor, the Diablo Edge Driver, by an average distance of 8 extra yards. Experience the most powerful driver ever imagined – the Diablo Octane Driver with Forged Composite.
FORGED COMPOSITE
– Revoluntionary new material that is lighter, stronger than titanium
– Crown contains 10 million turbostratic carbon fibers that reinforce 33% of the clubhead
– Precisely controlled thickness like never before, resulting in a clubhead that's lighter but still has an extremely high MOI
– Lighter clubhead enables a longer club configuration for faster head speed and ball speed for an average 0f 8 additional yards
HYPERBOLIC FACE TECHNOLOGY
– Chemical milling process selectively removes excess material for precision thickness control across the face
– Produces consistently high ball speed for long distance
PROJECT X GRAPHITE SHAPE
– Longer high performance shaft designed as the ideal complement to the Diablo Octane Driver
– Maximizes performance and enhances feel
The Callaway Diablo Octane Driver is available in four different degrees of loft
– 9.5 degree
-10.5 degree
– 11.5 degree
– 13 HT
To learn more about the Octane Driver or to try it out, visit Pennfair Golf.
Please specify a Flickr ID for this gallery
Callaway Diablo Octane Driver

,
Reviews