Golf Trainer Features
Type

Golf Training and Lessons

Pro Shop

Yes

Lessons

Yes

Swing Analysis

Yes

Custom Fitting

No

Dress Code

Yes
Brian Jacobs Golf
Hank Haney Certified Instructor
Brian Jacobs Golf Academy at Mill Creek Golf Clubwww.brianjacobsgolf.com
Photo Tour
Please specify a Flickr ID for this gallery
Golf Trainer Info
Brian possesses an Ms Ed and PGA credentials and has devoted over 20 years to educating youth in the Rochester City School District. He has been awarded local, state and national teaching awards for his excellence in education in addition he has been recognized by the PGA Foundation for growth of the game of golf.
Brian was trained in the Western New York Section as he served the memberships at Midvale Country Club, Locust Hill Country Club and The Country Club of Rochester as an Assistant Golf Professional. Brian most recently served as the Director of Instruction at Irondequoit Country Club where he taught all levels and ability of player within golf schools, junior camps and private lessons. Brian worked as a Lead Instructor for ESPN Golf Schools where he trained under Hank Haney former teacher of Tiger Woods.
Brian is a Hank Haney Golf Certified Instructor being one of six in the world to achieve level 3 certification as well as a Hank Haney ecoaching Certification. Brian continues to be mentored by Hank and his staff and works closely with Hanks support staff both in teaching and business practice.
Brian is an accomplished player and has also caddied in the United States Amateur and on the LPGA Tour where his experiences allow him to bring an "inside the ropes" perspective to his students regarding course management and managing one's self within a round of golf. Brian is committed to educating, empowering and improving the students in his charge and is proud to represent Nike Golf as a Staff Professional.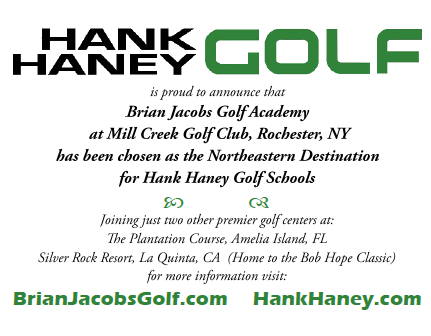 Rate This Facility
Please rate this course and provide your reviews below.
Brian Jacobs Golf

,
Reviews