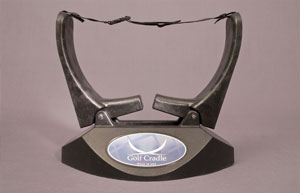 Recently we were on Facebook and came across a product called The Golf Cradle. The Golf Cradle is a breakthrough golf club protector designed to safeguard your clubs as you transport them to and from the golf course.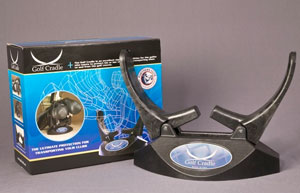 The company was founded in 2006 and is based in Rochester, NY. The Golf Cradle was the company's first invention, developed out of frustration of the inventors expensive golf clubs shifting and rolling about in the trunk of his car.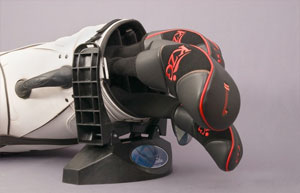 The Golf Cradle protects your clubs
One of the biggest investments made by a seasoned golfer is his or her golf clubs. The Golf Cradle protects that investment by elevating the club heads and open end of the bag. It locks down the golf clubs in place, preventing them from moving. Many golf clubs over time become weak when they are set in the trunk of a car. Using the Golf Cradle eliminates the chance of head and shaft damage.
GolfLocal.com tests out the Golf Cradle
We received our Golf Cradle via Fed Ex in a nice yellow box with the Golf Cradle logo on it.  Once opened the Golf Cradle was wrapped in a nice designed instruction package informing the user on how to use this product step by step. We placed the unit into the trunk and inserted the golf bag as instructed securing it with the straps provided.  It really was that simple.  The Golf Cradle kept the clubs elevated. My Callaway X22 irons and Taylor Made R9 driver did not shift at all.
It is as easy as 1, 2, 3 to install the Golf Cradle
1. First you insert The Golf Cradle golf club protector in the trunk of your car or SUV.  Its weighted base and ridged bottom are designed to ensure it stays put even over rough terrain.
2. Next you place the open end of your golf bag into The Golf Cradle golf club protector. The arms automatically close, grasping your bag and securing it in place.
3. Lastly you strap your bag in and lock it in place. The Golf Cradle golf club protector's strap secures everything in place. The built-in buckle locks to keep your clubs stationary to and from the golf course. Simple as that!
Where to buy the Golf Cradle
We love the Golf Cradle! The Golf Cradle is a fantastic product. For all golfers that have invested in their golf clubs they need the Golf Cradle. To purchase the Golf Cradle you can visit them online a www.golfcradle.com. They sell the unit for only $24.95.
Also check out the Golf Cradle commercial – we think you'll get a laugh.  Not sure I have ever seen golf clubs look like that in the back of a car but I guess it could happen.
The Golf Cradle – A Must Have For All Golfers

,
Reviews