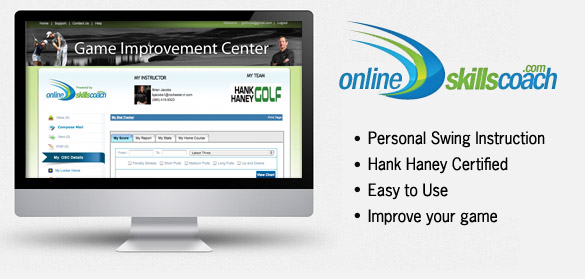 Online coaching is a new concept in the "world of golf" and has the potential of revolutionizing private golf instruction as it is known today. In the day of multimedia communication and electronic mediums this path of instruction "just makes sense" for some people who respond well to visual instruction. With e-coaching your instructor (if qualified) has the potential to offer instruction to you without being with you personally for example, when you are on the road traveling for business or vacation or if you have minimal time to arrange a private meeting with your instructor.
You can simply shoot video both down the line and face on (see example below) with any hand held device such as your iPhone, then send to your locker with Online Skills Coach and your selected instructor will receive an email indicating that you have sent a video that needs to be coached. The video can be shot both indoors or outdoors, on the range, golf course, practice green or bunkers;  videos have been received to be coached that have even been recorded in students' living rooms at their homes!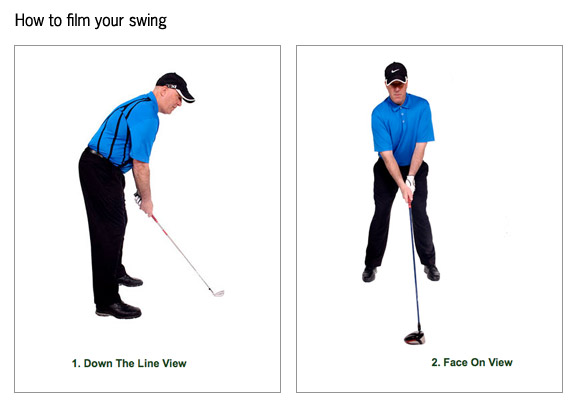 The instructor, as part of his or her agreement with Online Skills Coach, must within 48 hours of receipt, coach your video with voiceover and return to you with comments, text and/or drills attached that have been personally recorded by your instructor indicating the path he/she may want you to take to improve or work on in the coming days or weeks. The coached video remains in your locker for a total of one year so you can review over and over again at your convenience; this is an added benefit because many times we as students get off track and this is a way for the student to constantly review what needs to be done at their own convenience.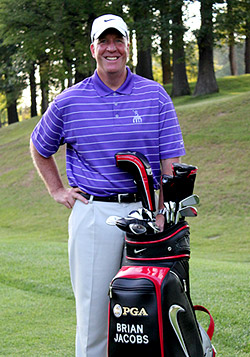 In the Greater Rochester Area, Brian Jacobs is the only Hank Haney Certified Ecoach Pro and currently coach players from all over the United States, Canada and overseas. His "Estudents" have progressed incredibly well and are just as committed to improvement as the students he teaches in his golf schools and private instruction.
There are a variety of reasons for why people choose ecoaching for example, time constraints or as a continuation of instruction for out of state/country students that have attended a golf school; many Estudents progress at the same or more rapid rates and in some cases Brian Jacobs has received as many as 3-4 videos a month from some  Estudents. He has been asked a number of times if he feels that ecoaching will "take over" traditional instruction and he  replies, "no" but there is a place for this type of instruction for a number of people who again, would prefer to be coached in this manner.
Brian Jacobs is always open to learning and implementing anything that he believes will help his students get better and develop consistency and this is definitely another tool that he can use to assist his students in constant progress. In Brian Jacobs way of thinking for our area of the country this is a great way to stay "tuned up" in the winter months and he has used this program for players that he coached that play the Mini Tours in Arizona when snow is on the ground here and for athletes that are preparing for college golf. The coaches from colleges can simply view the video in the student locker with his voiceover and the process of recruiting or student improvement can continue to be as smooth as possible.
In the coming months he will be creating a program with his Performance Coach, Corey Taylor (www.CoreyTaylor.net) where he can also ecoach his students and build drop down programs that can be done at home or a gym to assist the student in being golf fit for the off season, pre-season and in season all based on video that is sent via Online Skills Coach.
This program is a tremendous way to learn at your own pace or support previous learning at one of his golf schools or private instructional training sessions and Brian Jacobs would encourage you to research this further. He is always available to answer your questions either through his website www.BrianJacobsGolf.com or on twitter @brianjacobsgolf and he looks forward to the coming months as he continues this series of articles with Golf Local on topics of interest that to golf instruction.
HOW TO CREATE AN ACCOUNT
1. Go to OnlineSkillsCoach.com
2. Click on new user in top right corner of page
3. Fill out the information
4. Select golf as your sport then Hank Haney Golf as your team
5. Select Brian Jacobs as your Coach and get started today!!!
Start improving your game today with PGA, Hank Haney Certified Instructor, Brian Jacobs. When you send your videos, you receive a personal instruction video and customized tips and drills within 48 hours. All of your coached videos are stored in your accounts locker so you can watch them over and over again.
Get Started with 2 videos for only $29.99.
***Brian Jacobs Golf reserves the right to determine the length of the coached video returned to student
Online Instruction with Brian Jacobs Golf

,
Reviews