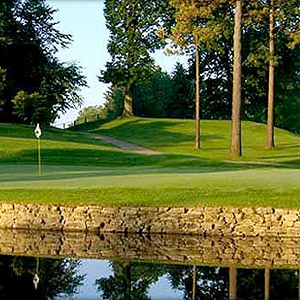 By Kirsten Mortensen – Feature Writer
As a golfer and a Rochesterian, you've probably found yourself—at least once—on Chapin Way.
Close your eyes and you can probably picture it. You pass between the brick pillars at the Kilbourn Road entrance to the club, and suddenly you're no longer in suburban Pittsford. You're in a different world. Hundred-year-old trees arch their branches overhead. You turn your head to the left and there it is: the pristine fairways and greens of the fabled East Course. And then, a moment later, the road starts to climb and the clubhouse comes into view: a 70,000 square foot English Tudor-style structure that counts as one of the most gracious and recognizable buildings in the Rochester area.
It's a place where history's been made—and what a history it's been. Oak Hill is the only club in the world to have hosted all six of the men's golf championships: The Ryder Cup, The PGA Championship, The Senior PGA Championship, The US Open Championship, The US Amateur Championship, and The US Senior Open Championship. All the greats have played here, from Hogan to Trevino to Nicklaus to Woods.
And in 2013, history will write a new chapter when Oak Hill again hosts the PGA Championship (see sidebar).
Tradition—And Change
Oak Hill's history is inseparable from the history of Rochester itself. The club was originally located on the site of the present day University of Rochester River Campus, one of Rochester's other storied institutions. Then, in 1924, the club's original members agreed to move Oak Hill to give the University space to grow—growth funded, in part, by the patronage of George Eastman. In 1942, one the club's earliest pro tournaments featured a $5,000 purse posted by the Rochester Times-Union. Oak Hill's rise in prestige paralleled Rochester's 20th Century flowering as a global center of industry and innovation, as first Kodak and then Xerox became household words.
The writing of history, of course, also suggests change, and Oak Hill—like golf itself—serves to remind us that there is a constant tension between tradition and progress. This was true for Oak Hill from the beginning. It wasn't an easy decision to move Oak Hill from its original home: at the time, the Pittsford site was tired, treeless farmland; it took vision to imagine those barren fields as the picturesque haven Oak Hill is today.
The venerable golf course architect Donald Ross contributed, needless to say, building two 18-hole layouts that not only afforded an unforgettable golf experience but also conformed to the existing terrain. (Ross' quote, "God created golf holes. It's the duty of the architect to discover them," suggests a connection with the earth that today's environmentalist can appreciate.)
Less well-known is the work of Dr. John R. Williams. Dr. Williams' professional accomplishments included pioneering the use of insulin to treat diabetes. As a member of Oak Hill, he also became a self-taught arborist who personally planted tens of thousands of trees. The courses would not be what they are today without him.
But although Oak Hill remains very much a Donald Ross design, its members decided some time ago that the club should not be treated as a museum piece. "Some people may not realize it today," notes Fred W. Beltz, Oak Hill's historian, "but the East Course has been through a series of fairly significant renovations."
These changes were themselves a response to change. Trees grow or die and must be removed. When Dutch Elm disease swept through the Great Lakes region in the 1950s, the club lost hundreds of mature trees in the space of a few years—which left the East Course a bit easier to play. Over time, of course, erosion altered slopes and the contours of water hazards. The club also saw countless changes in equipment and training. One result for Oak Hill: bunkers that were formidable hazards for scratch players in the 30s and 40s were, twenty years later, no longer in play.
So rather than let golf pass Oak Hill by, its members have—albeit with great care—taken steps to ensure the East Course remains one of the sport's most challenging pro venues. Before the 1956 U.S. Open, the club hired Robert Trent Jones to add some length and change the course bunkering. Then, after Lee Trevino broke par in all four rounds of the 1968 U.S. Open, Oak Hill brought in George Fazio and his son Tom, who completely eliminated one hole, built another brand new one, and made significant changes to three others. At one time, Oak Hill played 6,538 yards. Today it's at 7,145.
A Collaboration That Works
There's no question that these modifications are one reason Oak Hill has been so successful in attracting pro tournaments. As former club president Bill Reeves said in 2000, without the renovations made in the 1970s, "we would not have had the 1980 PGA and the other major events that followed," including the 1995 Ryder Cup.
Nor should it surprise anyone that the club has made a few more modest changes in recent years. In perhaps the most noticeable modification, to prepare for the 2013 PGA Oak Hill completely rebuilt the East Course's 15th green. The rebuilt green gives the PGA a few more pin placement options while ensuring green speeds consistent with other holes on the course.
Mind you, none of the recent changes was required by the PGA. "These are club-led initiatives," notes Ryan T. Cannon, the PGA of America Championship Director who is part of the on-site advance guard prepping for next year's tournament. "After all, the PGA Championship will be here for a week, but the club members play here, weather permitting, every day."
In fact, it's a kind of collaboration—between Oak Hill and the PGA, between Oak Hill and the USGA, and yes, between Oak Hill and Nature and Time. But it's a collaboration that works. Today, Cannon not only calls Oak Hill "one of the most challenging golf courses in the world;" he also cites the Oak Hill club as "arguably one of the best clubs in the world at readying a course for a major."
And it's right here in Rochester.
Our championship golf treasure.
Because when he built Oak Hill, Donald Ross set out to "make each hole present a different problem," to ensure that "every stroke must be made with full concentration and attention necessary to good golf."
And nearly 100 years later, Oak Hill continues to do just that.
____________________________
Many thanks to Oak Hill and PGA of America for their support and assistance in the development of this article.
[Sources for this article include: Oak Hill Centennial 1901-2000 by Sal Maiorana, and Evolution of a Legacy by Donald M. Kladstrup. Both published by Oak Hill Country Club.]
SIDEBAR: Gearing Up For Champions
Some 18 months before the 2013 PGA Championship, Championship Director Ryan T. Cannon had already moved his family to Pittsford—and his office into a building near the Oak Hill clubhouse.
Because, it turns out, it takes a lot of advance work to get a course ready for a major golf tournament.
"Other big sporting events are held at venues designed to hold them," Cannon notes. "Stadium designers spend years figuring out where people are going to sit, where they'll park, how to accommodate the media.
"We have all those same logistics, but we're holding an event at a venue that wasn't necessarily designed to have 40,000 people come through every day to watch the best golfers in the world."
So Cannon's job is to build, from scratch, an on-site organization to tackle everything from permitting to corporate hospitality to ticket sales. Over time, he'll be joined by additional PGA of America staff members (up to eight or nine by January 2013) as well as several thousand volunteers. Many of the latter will be Oak Hill members; the club has formed some 50 committees to coordinate with Cannon's team.
And while some decisions the PGA and Oak make will build on the successes of past tournaments—including, most recently, the 2008 Senior PGA—Cannon and Marty Glavin, Oak Hill's PGA Championship Director, have already worked with the club to plan some enticing new amenities. The club will move its course maintenance staff to another location to free up additional space for corporate sponsors, for instance—space that will give the tournament's corporate supporters fantastic views of some of the East Course's best holes, like the par 3 No. 6. "All corporate hospitality will be onsite," Cannon notes.
Cannon is also coordinating with local and state-level tourism and business development organizations. This is another high priority activity, considering the tournament's potential economic impact. "The 2013 PGA Championship will be the single largest sporting event in New York State between now and the 2018 USGA Open," notes Glavin. (The 2018 USGA will be held at Shinnecock Hills Golf Club in Southampton, N.Y.) In fact, considering that the 2003 PGA Championship generated around $40 million in economic activity, it's not unreasonable to assume that the economic impact of next year's tournament on Greater Rochester could reach $60 million or more.
The 2013 PGA Championship will also boost the area's charitable fundraising by several hundred thousand dollars.
And then there's the international exposure the Championship will bring to Greater Rochester. "There will be 27 hours of high definition television coverage," Cannon says. "The PGA Championship is one of the most widely televised sporting events out there. What better way to introduce Rochester and New York State to the world?"
There is no doubt in Cannon's mind that when that coverage starts, Oak Hill—and Rochester—will shine. "This community loves the game of golf," he says. "Our past experiences at Oak Hill have been tremendously positive. There is such a sense of pride in the communities of Pittsford and Rochester, and among the Oak Hill membership."
"When you look back on past tournaments, '08 and '03 and 1995, you remember exactly what those weeks were like," adds Glavin. "They were second to none—some of the best experiences Rochester has ever offered.
"There is no doubt we will see another incredible week in August of 2013."
Reviews