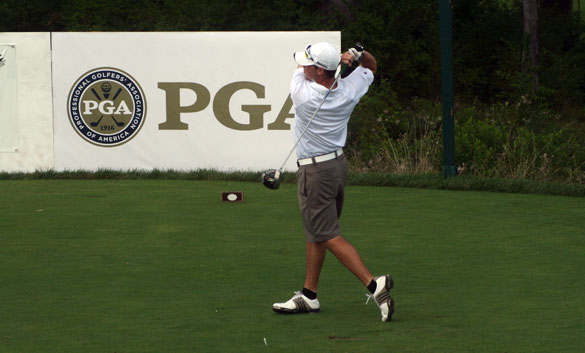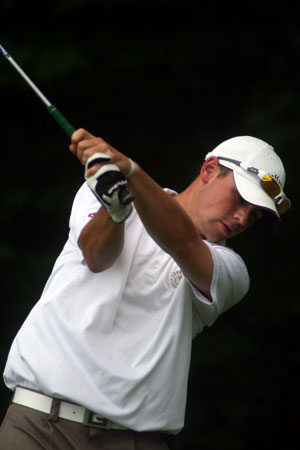 Binghamton University freshman Bryce Edmister has earned his way to the U.S. Amateur Public Links Championship to compete along with the best amateur golfers in the country. The U.S. Amateur Public Links Championship is one of the top amateur events of the year and will be held this year from June 27 to July 2 at Bandon Dunes Golf Resort in Oregon.
This event started in 1922 by James D. Standish Jr. who convinced the USGA Executive Committee to allow public-course players to compete for a national championship.
To be selected for this event, Bryce Edmister played in a qualifying tournament at Ravenwood Golf Club in Victor, NY. He shot a 71 and a 72 to be one of the 2 to qualify.
"I felt lucky to get some big breaks because I never get those big breaks. At Ravenwood, the first break I got was on my 5th hole. I hit a putt that caught the left edge of the hole and circled the cup completely and then dropped in. I was fortunate to receive some good bounces around the greens leaving me with putts for birdie."
Loss of a dear friend brings determination
The day before the qualifying event, one of Bryce's best friends unexpectedly passed away at St. Joseph's Hospital in Caton, N.Y. Timothy Decker was the Athletic Director for the Corning Painted Post School District and mentored Bryce in golf and other sports.
Bryce recounts, "Tim was always willing to do anything for me. If I needed something, Tim would not hesitate to help."
Even with all the emotions and loss of a dear friend, Bryce used his determination to play good, consistent golf. Winning the qualifying event was bittersweet for Bryce after losing his dear friend, but Bryce knows Tim would have been proud.
Hard work and practice help Bryce qualify

Another mentor in his golf career has been his dad, Jim Edmister. Jim has been the head pro at Mill Creek Golf Club for the past 3 years and has been helping Bryce improve his swing and golf game since he was 3 years old.
"Wow it is awesome! What a great venue for Bryce to play in. The winner gets an invite to the Masters." says Jim.
To help prepare for the qualifying event, Jim helped Bryce stay focused and encouraged him to practice his putting. "Bryce loves to practice. You will find him more often on the practice green then actually playing a hole."
"Bryce also prepared by taking lessons with Joe Lusardi. Joe helped Bryce improve his swing and technique a lot during the winter months." says Jim.
Jim caddied for Bryce in his win to qualify for the U.S. Amateur Public Links. Jim recalls the last day "It was so hot and the course was in U.S. Open conditions. Bryce and the rest of the players were trying to fight fatigue. Making pars was key." Jim knows his son's game and that day proved to be a success for Bryce and his dad.
Bryce is now headed to Oregon to play in the U.S. Amateur Public Links Championship. Golf Local along with all of his family and friends wish Bryce good luck in this upcoming tournament.
Help support Bryce

Please help support Bryce with travel expenses as he travels to Oregon to play in the U.S. Amateur Public Links. The proceeds of this fundraiser will allow Bryce to participate in this year's tournament. To help support Bryce, you can purchase raffle tickets for a great golf package.
Golf package includes:
A Foursome at Mill Creek Golf Club (18 holes, cart included)
Lunch at the Mill Creek Tavern
A dozen golf balls for each player
Free lesson from Mill Creek Golf Club Professional Jim Edmister (lesson is prior to tee time)
Anyone who wishes to enter the raffle it is $5 per ticket or 5 tickets for $20. If you would like to enter, you can e-mail me at bedmist1@binghamton.edu.
Q&A with Bryce Edmister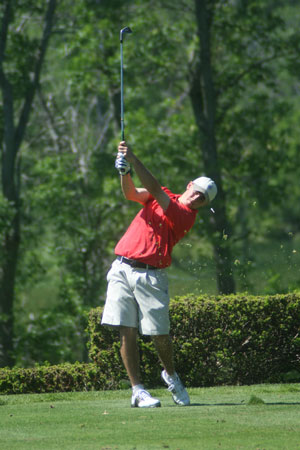 What clubs do  you have in your bag?
I have Callaway X-forged Irons, Callaway Diablo Tour Fairway Woods, TaylorMade R9 Supertri Driver, and a SeeMore putter
What is your favorite club?
My favorite club is my putter because that is the club that has the most impact on your score.
What is your favorite course in the Rochester area to play?
There are many great courses in the Rochester area, however I would have to say that my favorite is Mill Creek. It offers many different golf shots; depending on the wind direction and how hard the wind is blowing, the course can change dramatically day to day. Also, there are great practice facilities at Mill Creek including two driving ranges, two different chipping greens, putting greens, and a 9 hole par-3 course.
When your not golfing what else do you enjoy doing?
When I am not playing golf, I usually am working. I caddy at Oak Hill and also help run the par-3 course at Mill Creek. When I am not playing golf or working, I enjoy hanging out with my family and friends.
Some high school accomplishments include
Won the Western NY Jr. PGA Championship at Triple Creek Golf Course (2009)
Recorded a top-20 finish at the NYS High School State Championship (2009)
Tallied a second place performance at the NYSGA Junior Amateur Championship (2008)
Advanced to the final round in the match play portion of the International Junior Masters (2008)
Carded consecutive rounds of 72 to claim the NYSPGA Junior Championship (2008)
Participated in qualifiers for the Monroe Invitational and prestigious Porter Cup over the summer (2010)
Local golfer, Bryce Edmister, advances to U.S. Amateur Public Links Championship

,
Reviews