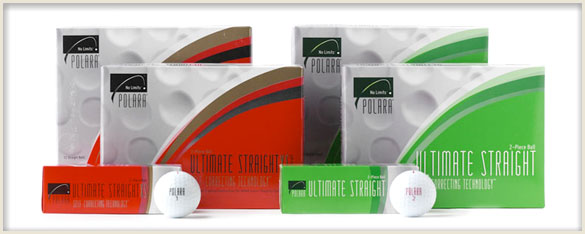 I recently learned about a new golf ball called the Polara Ultimate Straight. This ball was engineered to help correct a slice or hook. The manufacturer states that their ball remedies up to 75% of hooks and slices. So I contacted the company and asked them for some balls so I could do some of my own tests.
As a player who has battled the slice for many years, I had my doubts. I have tried every gimmick around to help hit the ball straighter – nothing has worked completely … until now!
The Polara golf balls claim to fly straight because of the three different dimple depths and patterns:
Shallow Dimples: helps lower lift and establish optimal spin axis
Small Dimples: helps inhibit slice and hook-causing side spin
Deep Dimples: helps reduce drag and enhance weight distribution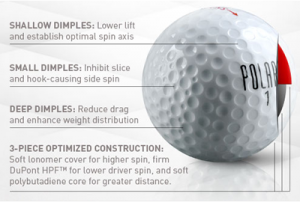 When the ball is placed on the tee with the side stamp arrow on top and pointed at the target, the ball is in its principle spin axis orientation for a straight shot. The Polara Ultimate Straight balls generate about 20% less drag and 50% less lift when they rotate about their principle spin axis. It is the 50% less lift that is responsible for 50% of the slice correction.
So Did The Polara Balls Fly Straighter Than A Normal Golf Ball?
In order to get a accurate evaluation I played two balls over 18 holes – the Polara Ultimate Straight ball and a Nike PD Long ball. Off the tee the Polara ball was much straighter and found the fairways more frequently than the Nike PD Long. What the ball lacked in distance, it made up for in accuracy. I was consistently 5 – 10 yards shorter on the tee. To make up the distance of the tee the manufacture recommends 13 degree or higher loft club. The higher loft gives the ball a higher launch angle, which complements the Polara's low lift/low trajectory.
When using my irons I experienced the same accurate results – hitting the ball straighter and even longer than the Nike PD Long. I found that the Polara ball was one to two clubs lengths longer off the irons than a normal ball. Once I figured this out, I hit more greens than ever before.
I was not as impressed with the Polara ball on the green. I found it hard to get a good feel putting compared to the Nike PD Long. This could be because I am very particular with the type of ball I putt with, so you may have to form your own opinion on this.
The Polara Ultimate Straight Ball is perfect for one group of golfers – those who want to enjoy the game more and hit more shots from the short stuff.  Please be aware that this ball is not recognized by the USGA as a legal ball in tournament play.
Want to win a sleeve of the Polara Ultimate Balls?  Enter Below For Your Chance.
Reviews