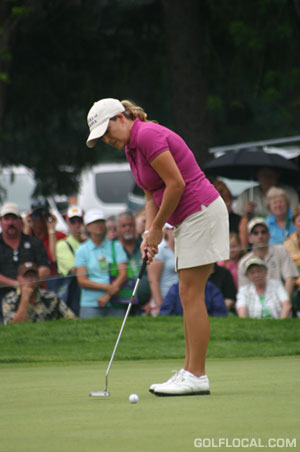 It is a big deal, Rochester
The LPGA Championship presented by Wegmans at Locust Hill Country Club is a big deal for Rochester. It is not only a big deal, it is a Major. Bringing in a Major Championship for the LPGA is not an easy task. It takes a great course, a welcoming community, and a strong fan base. The LPGA has always loved bringing their game to the Rochester area but believes it is a great place to hold one of the top championships in golf.
Golf Local was able to get out and meet with the players, volunteers, and fans.
Top-Notch Women Golfers
Watching the professional women golfers as they hit the center of the green is an energizing experience. You can feel their passion and dedication for the game. Cristie Kerr is a fantastic player and has not disapointed her fans this week. She draws large crowds and has an amazing short game. It would make even Tiger jealous. She has played Locust Hill so well despite the hard conditions and the unforgiving weather.
The Friendliest Volunteers

It takes many volunteers to put on the event and there were many that had to be turned away. The volunteers at Locust Hill are some of the friendliest event personal we have ever encountered. Whenever we had a question there was always a helping member to guide us in the right direction.
Great Fan Turnout & Support
There has been a great turnout to the LPGA Championship presented by Wegmans this year. There are many fans from all over the country and even world that have come out to watch and show their support. Cristie Kerr has a majority of the fans following her every shot. They cheered her on as she sank a birdie putt on the 15th hole.
GolfLocal.com is proud to be part of Rochester golf.
Photo Gallery
View images from Round 3 at Locust Hill

Created with flickr slideshow.
If you would like to use any photos displayed please email golflocal@gmail.com.
Reviews