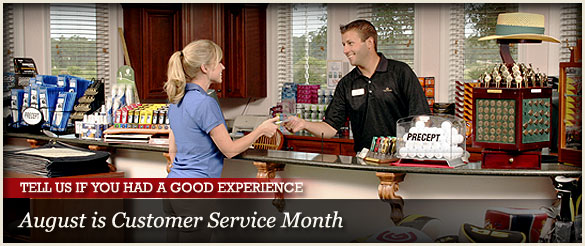 We here at GolfLocal.com believe that there are some key reasons why us golfers enjoy going back to a golf course – those are quality of the course, value and the customer experience. If you have ever had a great customer experience you more than likely would revisit that course again.
That customer experience or service is the foundation of private courses like Augusta National and Trump National. Imagine how Donald Trump is treated at any of his golf courses. Now what if our public courses showed that level of service?
So for the month of August, we are looking for the golf course (private or public) that has provided the best service and experience.
Please leave your comments and reviews below and let us know either way if you saw great service from the courses you have played. We will even send all those that leave a comment a special gift.
The first 15 people to write a review about an experience this month will receive a Free Golf Local Discount Card.
August is Customer Service Month

,
Reviews