The fall golf season is closely approaching. During the months of September – November, Western New York is one of the most beautiful places to play golf. Not only is it one of the most beautiful seasons to play golf but it also becomes the most affordable times to play some of the best courses in the area.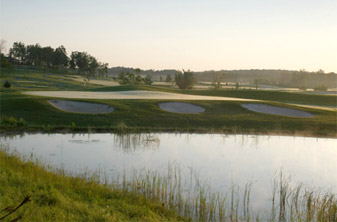 Ravenwood is One of the Top Public Courses in Northeast
Ravenwood Golf Club has quickly become one of the best public golf courses in Rochester, NY. It was selected by Golf Digest as the "5th Best New Upscale Daily Fee Course" in the country. It has been recognized as one of the top public golf courses to play in the Northeast.

Designed by world renowned architect
The course opened in 2002 and was designed by world renowned architect Robin Nelson. Nelson has over 35 years of experience designing golf courses and has designed other great courses like Tanah Merah Country Club in Singapore and Royal Kunia Country Club in Leeward (Oahu, Hawaii). He was recently honored by being listed as one of the top ten golf course architects in America in a story by noted golf writer Jeff Williams in Cigar Aficionado Magazine.
Ravenwood Golf Club is one of the most beautiful courses with its newly renovated bunkers and gorgeous bent grass fairways. Finishing your round on the eighteenth hole could not be better. It is a par 5 that bends slightly to the right. It has 10 bunkers, 7 of which surround the green making the hole one of the most challenging. It shares a beautiful view of the clubhouse that sits within large beautiful trees right behind a natural amphitheater created by a hill.
The practice and banquet facilities at Ravenwood are some of the finest in the Rochester area. The practice facility is one of the largest with a 12,000 square foot practice green and a golf range that is lit until 10pm. They offer seven target greens and a special short game practice area which includes bunkers. The newly renovated banquet facility, with the ability to hold up to 200 guests, is beautiful with large sliding glass doors that open to a garden with a lighted waterfall. In addition to the beauty of the greens and facilities, the staff and management are very courteous and helpful as well.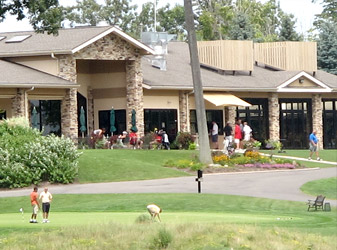 Strength is Golf Outings & Events
Ravenwood offers some of the best golf conditions as well as some challenging holes. They have hosted many tournaments and have been home to the New York State Men's Amateur Golf Championship. Mike Roeder, the General Manager, mentions
"Ravenwood's strength is putting on golf events. From the great conditions and challenging course to the GPS in every cart, we do them well."
The GPS is one thing that really makes this public course stand out. It shows you yardage to the pin, and your scorecard can even track the leader board of your tournament.
5 ways to save on rounds of golf at Ravenwood
Ravenwood has been viewed as one of the top public courses in the Rochester area but with that title also comes a price. The course has a higher price for golf than other public courses but with some research you can find some great deals at this fantastic golf course. Here are just a few ways to save on golfing Ravenwood.
1. Save up to 10% to 30% off when you book your tee time online. Ravenwood is a partner with Golfnow.com, a website that offers discounted tee times through online booking. When you purchase your discounted tee time, Ravenwood is notified and you are all set. Simple, Easy and Fast!
2. Try the Rate Finder on the Ravenwood Golf Course website. It gives you the times and rates to help you save money. If you want to play Ravenwood for $35 you can find out what time of the day and year you can find that deal. This is a great feature!
3. Visit the specials page on the Ravenwood Golf Club website. They do a good job at updating this page with current and good offers. They share great deals!
4. Sign-up for the Ravenwood Golf Club email newsletter. They send out deals and keep you up-to-date with course specials. They also give out a free round of golf to one subscriber a month.
5. Purchase the Fabulous Foursome. This golf package is the best in Rochester. For only $189 you get to play one round of golf at Ravenwood Golf Club, Bristol Harbour, Greystone Golf Club and Mill Creek Golf Club. Cart and range balls are included. Just email any of the courses and mention you saw this package on GolfLocal.com.
Go the the Ravenwood Golf Club profile page to view more photos, information and details.
Affordable ways to play one of the Top Public Courses - Ravenwood Golf Club

,
Reviews