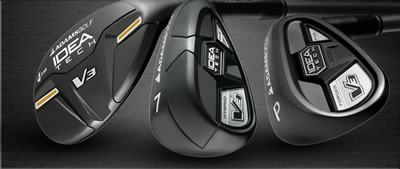 The leader in hybrid iron set design, Adams Golf introduces the new Idea Tech V3 Hybrid Irons that puts the latest technology and newest materials in the hands of all golfers.  Idea Tech V3 are easy-to-hit, and provide a high performance which tells us why these hybrid irons have led the industry for so many years.  With the dramatic nickel chromium (NiCr) plated and physical vapor deposition (PVD) black finishes, these golf clubs are in a category all their own.
Idea Tech V3 irons are the easiest to hit set that's ever been created by Adams Golf.   The hotter face and the higher launch results in more distance for golfers of any skill level.  The improved sole design on the hybrids help you cut through the turf easier for better playability from all types of lies.  By using a four-piece badge system that uses viscoelastic vibration dampening material, the feel at the point of contact is exceptional.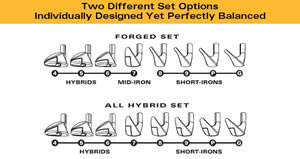 Adams offers these clubs in both steel and graphite shafts.  The MSRP is $799.99 and $899.99 respectatively.  To learn more about the Adams Golf Idea Tech V3 Hybrids Iron you can visit Play Better Golf and get fitted
for your set today.
Adams Golf Idea Tech V3 Hybrid Irons

,
Reviews