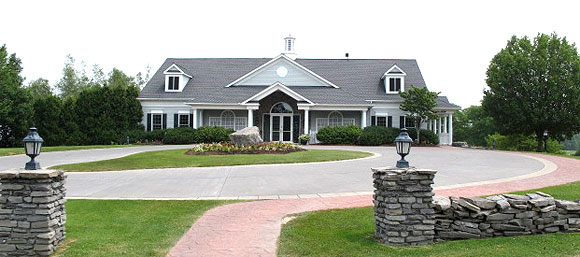 Here at GolfLocal.com we get asked all the time "Where should I play golf this weekend?" One of the courses that always comes to mind is Greystone Golf Club.
Greystone Golf Club is one of the best public golf courses in Rochester, NY. It is one of the most beautiful, well built and challenging courses in the area. It is Located on 1400 Atlantic Avenue in Walworth just outside of Penfield. Greystone Golf Club is only 8 miles away from Shadow Lake Golf & Racquet Club which is one of the most centrally located courses in Rochester. Recently we visited Greystone and it only took us approximately 25 minutes from our location in Chili.
In addition to Greystone being centrally located, there are 5 reasons why you should play your next round at Greystone Golf Course:
1. Public Course with Private Course Service
As you drive up to the club house the road is lined with beautiful boulders that add to the scenic layout and beautiful rolling hills of the course.  The staff waiting outside takes your clubs and places them into the golf cart as if you are a VIP member or some sort of celebrity. This type of service is only seen at private golf clubs with large membership dues.
As you walk toward the pro shop you can't help but notice the elegant clubhouse that overlooks the signature 18th hole respectively named "Greystone." Every staff member in the pro shop greets you with a smile and makes you feel as if you are the only customer on the course.
2. Perfectly Designed Greens
This Craig Schreiner designed golf course opened in 1996. Course superintendent Tim Hahn (from Oak Hill) keeps this course in fantastic shape. The greens and fairways consist of bent and poa grass. Every other week the greens are top dressed, cut vertically and rolled maintaining a 9.5 to 10 on the  stimpmeter.
The greens were perfectly built and have the best drainage in the area. So why is drainage critical? With the proper drainage system it helps "waterproof" the greens allowing for water to drain fast. It will allow for faster greens and give a more consistent play. It also cuts down on disease and pest problems.
When Craig Schreiner designed Greystones greens he made sure to include the best slope, size, angle, shape and location for every hole. Schreiner uses distance, bunkers and elevation changes to balance each and every green. He looks at the green as being the heart of every hole.

3. Great Course for Leagues & Tournaments
Greystone does not have any private members, instead they offer season passes. They provide (2) options: Premier pass and Greystone pass. The Premier pass ($2595) includes three 18 hole courses owned by the Dolomite Group (Greystone, Shadow Lake, Shadow Pines), one executive 9, cart, GHIN, league fees and club events. The Greystone pass ($1995) includes 18 holes at Greystone, cart and ½ off league fees.
Leagues and tournaments are plentiful at Greystone.  League nights are offered on Tuesday, Wednesday and Thursday nights. Some of the tournaments held at Greystone include: Highland Hospital, Dorschel Lexus Pro Am, Greater Rochester Association of Realtors and Visiting Nurses-Golf for Hospice.
A great reason to select Greystone for your next tournament is Mark Regan the PGA Pro. He offers a wide selection of merchandise and works with the tournaments to provide them with personalized prizes for their players. Mark has been with Greystone since the creation of the course in 2006. As Greystone's PGA Pro he offers a full lesson program and will design it to the players need and requests.
4. Challenging For Any Level Golfer
With rolling hills, elevated tee boxes and multiple ponds and lakes this course is not only fun to play but it also challenging for any level golfer.  While at Greystone, we were able to spend some time talking with Bill Middlebrook – Director of Golf.  We asked Bill what was something that surprised him the most.  Bill said
"You would not believe the number of golfers that come from Buffalo, Syracuse and even Toronto to play this course, they absolutely love Greystone. They are always complementing on how beautiful and challenging the course is. We are working on partnering with local hotels to create golf packages for the out of town golfer; this is an exciting time for us."
We also asked Bill what his favorite hole on the course was, and his response,
"18th hole hands down. You have to lay up off the tee, and then hit your approach over a giant pond to the green that is shared by the 9th & 18th holes. Big numbers can be put up on this hole if you are not careful."
We decided to walk this hole to see what he was talking about.  Off the tee, you want to hit about 200 yards which will put you in front of the pond. Your approach shot will need to carry the water about 90 yards to the massive double green which has multiple bends and turns. We have to agree with Bill, what an amazing hole.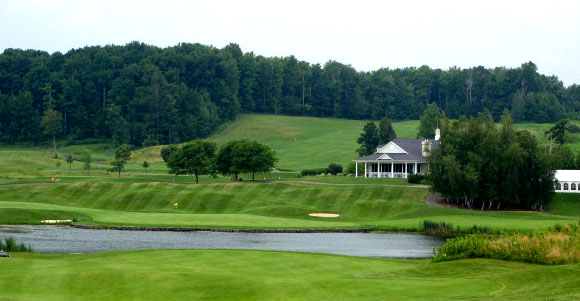 5. Great Staff and Fantastic Pub
We also spend time speaking with some players on the course as well as some of the staff.  We caught up with some golfers on the 17th & 18th hole and here is what some of them said.  Ben Barlow of Fairport, NY stated
"There is nothing I do not like about this course. I play here often and it is absolutely beautiful."
Paul Valliere who has been playing since it opened in 1996 said
"The club house staff is great. It is great when they know you by first name.  What other public course does that?"
Everyone we spoke with had the same response; they love Greystone.
When at Greystone make sure you stop in and grab a bite to eat and a drink. They have one of the best bars I have seen at a public course. From the custom woodwork to the Rachael, who has been a bartender at Shoney's Pub located in the Greystone Clubhouse said,
"I love seeing the golfers come in because they are excited to tell me about their round of golf and the course. They always talk about how great the course is and how they love playing here."
We were extremely impressed with Greystone Golf Club. The course was beautiful, the staff was top-notch and the golfers we talked to did nothing but rave about their experiences. Don't take our word for it – give Greystone a try and see for yourself, you will not be disappointed!
If you have played Greystone Golf Club make sure you put your review on the course profile page. Write Review on Greystone Golf Club
5 Reasons To Play Greystone Golf Course

,
Reviews